If there's one thing painting has taught me, it's that coming up with big ideas is infinitely easier than actually turning them into visual reality. In my previous post, I talked all about my ideas and influences and concepts. This post is about how I struggled to make those things into a real, concrete design. As I mentioned previously, my sketchbook was the natural place to start. My sketchbooks are not pretty. They're filled with scribbly, ugly, scratched-out and half-finished ideas; but that's how I like it. The sketchbook is a place where I can fail over and over again in a non-committal sort of way.
After I made a lot of really bad drawings, I finally ended up with the one I put in my last post. I liked that drawing and the direction it was moving, but I started to realize the limitations of pen and paper for this project. The finished design needed to be perfectly geometric and to-scale, so I moved to a computer program called Adobe Illustrator. I developed my skills in Illustrator when I first began as an intern at the Smithsonian Office of Exhibits Central (around the same time I began to work on this project) and I am so grateful for that timely learning experience.
I decided to continue with the same 30-foot (to scale) section of wall that I had been working with in my sketchbook; it was pretty much impossible for me to conceptualize the entire 106-foot length of the wall at once. I scanned my preliminary drawings and placed them in an Illustrator document. My next step was to trace these drawings with the pen tool and line tool, creating a vector drawing. Vector drawings are not made of pixels and thus can be infinitely scaled up without losing any image quality. As I traced, I also edited. Re-drawing is nearly always beneficial to the work, as it allows you to revisit the image as a whole instead of just picking at pieces of it and worrying about ruining what you already have. Although I knew the final design would be based on colors and shapes, I kept it simple with black lines on a white page at this point in the process. This is how I start most of my paintings; the drawing is the foundation of it all.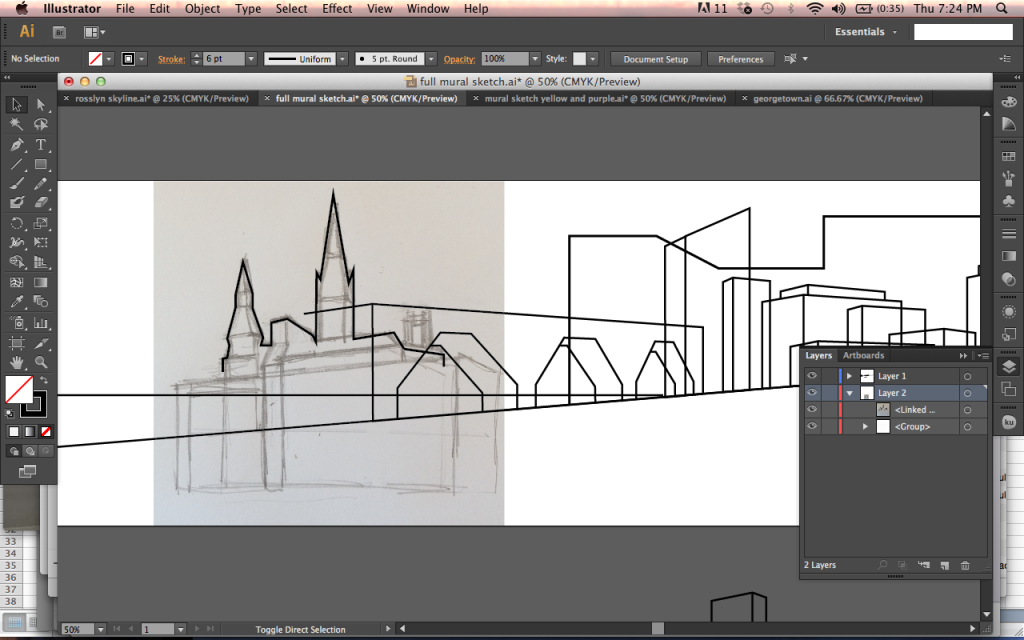 I struggled for a long time with the color. Color is everything. The drawing would mean next to nothing if the colors weren't exactly right, and I wasn't sure where to pull the colors from since I wasn't working from life. I wanted the color to be subtle, varied, beautiful, true to my work, and unobtrusive all at the same time. In moments of aesthetic crisis, I always turn to my college professor and mentor, John Lee. He reminded me to look to my sources: Charles Sheeler and Aaron Douglas. They both use a rich range of purples and blues countered by complementary yellows, so I decided to use a modified version of their color schemes. I filled in the Illustrator drawing using the Live Paint tool and I at last had a preliminary design to show the condo board at Engleside Cooperative.
Once I eventually received approval from Engleside and a grant from Arlington County, I returned to my design. The Spotlight Grant changed the mural from a project between one client and one artist to a community-oriented project. I decided to solicit the community for ideas about content before I moved any further with the design. I set up this blog and the Facebook page over at www.facebook.com/katepaintsamural and asked one simple question: what landmarks do you want to see in this mural? As the ideas flowed in, I went back to my sketchbook. I made sketches of all the additional landmarks community members had suggested, and scanned and traced them into their own individual Illustrator documents so I could try to work them into the design. I also completely reworked the original design, as nearly nine months had passed since I first created it. I brought the design back down to its linear foundation and redrew both Key Bridge and the Rosslyn Skyline to make them more specific and dynamic, and used these two landmarks as the anchor for the rest of my mural, working outward from there.
The last step before recoloring the design was adding radiating circular forms throughout the work. I pulled this idea directly from Aaron Douglas's murals; he uses concentric shapes to draw attention to particular areas of the work. In addition to directing the viewer's attention, I wanted to give the mural a distinct look from across the street. For pedestrians looking at the mural up close, the mural is an abstracted and geometric cityscape; for the car or bus commuter, the mural is a series of abstract, radiating, circular forms. It is, in a sense, two different murals in one.
With all the shapes and outlines complete, I colored everything in using the Live Paint tool in Illustrator. I had a very specific system for color. I acted as though each landmark was its own translucent shape. If a shape was on its own as the only layer over top of the background, I used the second color on my color scale. If another shape overlapped it, the overlapping space would be assigned the third color on the scale, and so on. By imagining the shapes as physical layers I was able to create a sense of depth within my strictly geometric design. Of course, I often confused my own self about how many layers were in a particular spot and so the coloring process took more brain power than I'd like to admit.
All in all, I spent over 100 hours working on the design (which is maybe why this post is so long!). Once it was complete, I felt that the hardest work was over. I had made the plan and all that was left was to execute it… a 750+ sq ft mural hand-painted by only me. Piece of cake, right?