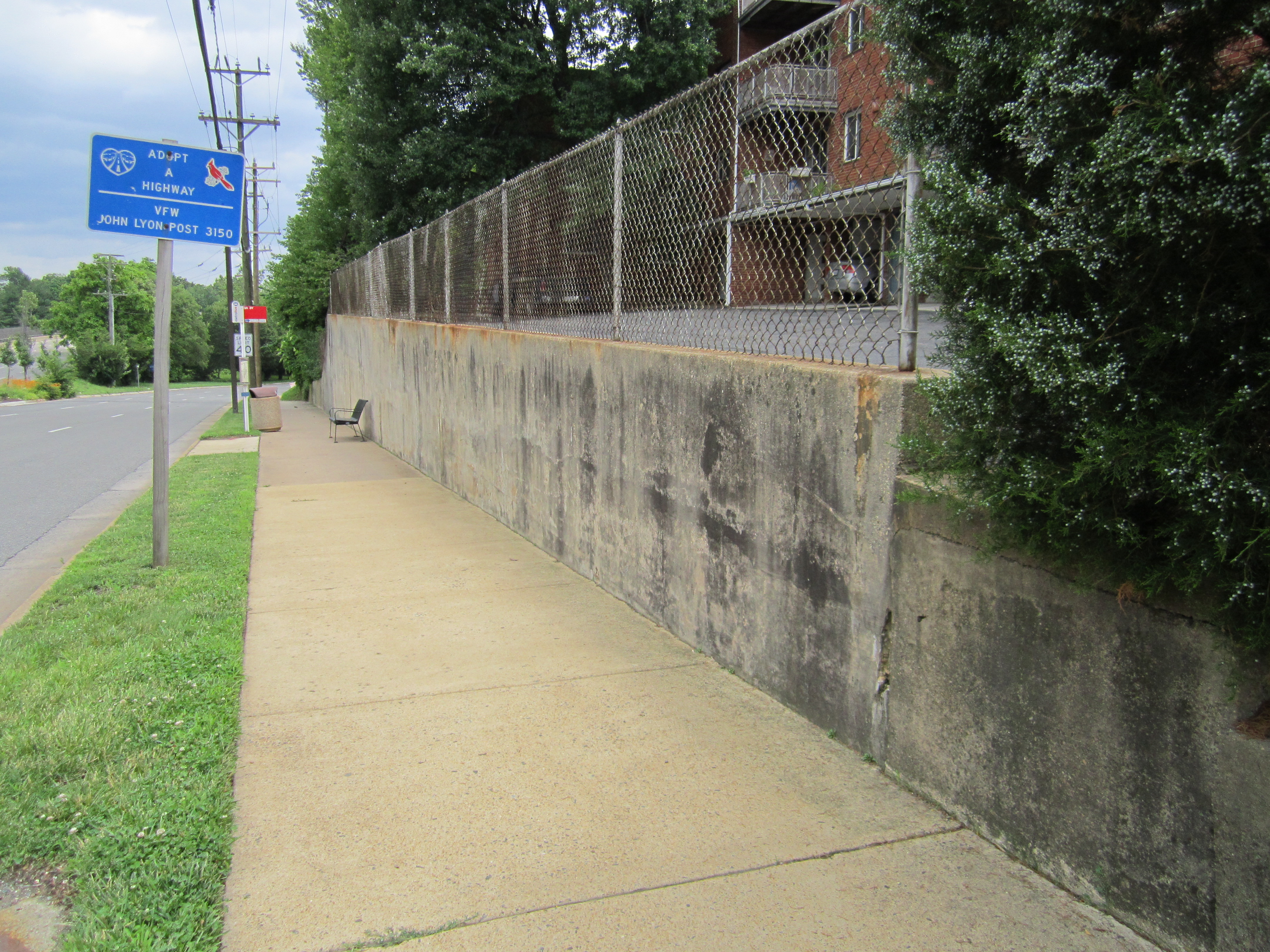 Getting a big project started can take some time. Back in the summer of 2014, Engleside Cooperative approached me about painting a mural on their retaining wall. As a recent college graduate, I was excited about the prospect of taking on such a large commission. I was also naïve about the amount of logistical work, planning, and budget building that would need to go into a project of this size. I had painted a mural before – the first in a now six-year senior class tradition at Washington-Lee High School – but my wonderful art teacher, Hiromi Isobe, had essentially handled all of the planning and logistical work.
As I began developing design ideas for Engleside, it soon became apparent that my ideas were a little bigger than their budget. Engleside's condo board debated and eventually agreed upon increasing my funding (due to the tireless efforts of mural commissioner and Engleside resident John Laswick). The warm weather soon turned cold, and it was too late. The mural was still in the back of my mind throughout the winter, but I knew it would have to wait. In sub-freezing winter weather, latex paint would not dry.
While I waited for better painting weather, Engleside resident Courtney Murphy brought my attention to the extended deadline for the FY 2016 Spotlight Artist Grant through Arlington Commission for the Arts. A grant of this kind would make a huge difference for my project; it would mean I could hire a professional painting service to do the time-consuming and labor-intensive preparatory work on the concrete retaining wall. The wall was cracked and dirty, and would need to be cleaned and sealed before I could apply paint if I intended it to stick. Concrete is a difficult surface to paint on because it is porous; water actually moves through it.
The months dragged on without any news and I started to seriously doubt my chances of receiving the grant and I wondered if I would be able to complete the project without it. When I had all but given up (as is usually the case) I found this message in my inbox:
Dear Kate Fleming,

On behalf of the Arlington Commission for the Arts, I am pleased to inform you that we are recommending to the County Board that your FY 2016 Spotlight Grant, "Mural on Retaining Wall at Engleside Cooperative" be supported with a cash award of $5,000.
Awesome! I was so excited and honored that the Arlington Commission for the Arts through my project was worth their attention and funding. What's more, as an emerging artist, I felt like this grant legitimated my career and portolio.
Getting the funding from the Arlington Commission for the Arts and Arlington Cultural Affairs has finally gotten this project moving in a real way. It's been a full year in the works, but things are finally starting to pick up speed. Before I can get started on painting the mural itself, I need your help. Let me know in the comments or via Facebook (www.facebook.com/katepaintsamural) what Arlington and D.C. landmarks are most important to you. I've received some community input already but I'm looking for more ideas of what to include in the mural. Check back here soon for an update about the mural prep and maybe even some sneak peeks of the designs.